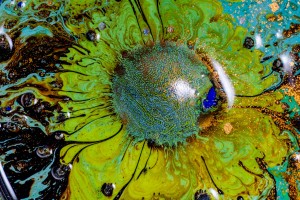 Acrylic pouring is an interesting art that does not require much experience to get started. In fact, your first work can produce fascinating results that encourage you to continue in the art of pour painting.  Apart from the pouring procedure being relatively simple, the tools you need for pour painting are inexpensive and readily available at your local stores and supermarkets. 
Without further ado, let's talk about the materials you need to start with acrylic pouring.  The materials listed in this article incline towards acrylic pouring beginners. As you develop more skills, you may end up adding other material into your acrylic pouring arsenal. 
Paint 
The fact that you need acrylic paint for your acrylic pour painting is a no-brainer. Since you are still a newbie in acrylic painting, it would be beneficial to start working with inexpensive acrylic paints. Such products will help you save costs since you may be wasting some of the materials while practicing. Some affordable brands include Craft Smart, DecoArt, FolkArt, and many more. 
Pouring Surface 
The next essential material required for acrylic pouring is the pouring surface. Most artists prefer to use the canvas panel for this purpose; these are often pieces of canvas materials overlayed on a frame to give it a rigid shape. Many models of canvas that vary in quality and pricing are available in the market. Other pouring surface options include hardwood panels, acrylic paper, and watercolor paper. 
Silicone 
Although silicone is not compulsory for acrylic pouring, artists commonly use it to make the paint layer over one another to form the acrylic painting's signature cells.  So, it would be best if you kept some silicone in your repertoire to experiment with cells in your acrylic pouring. 
Floetrol 
The most popular pouring medium used by acrylic pouring artists is Floetrol. The pouring medium mixes the acrylic paint to form a syrup-like texture before pouring on the canvas. Australian Floetrol is an excellent option; it makes the paint easy to control on the canvas and allows the painting to dry quickly without producing cracks. 
Disposable Cups 
Although you can use any cup for acrylic pouring, disposable ones are recommended since you will be messing up the cup surfaces with acrylic paints. Make sure you mix each color in a separate cup before mixing the different paint colors or pouring on the canvas.  
Cellophane bags 
From grocery bags to garbage bags, any cellophane bag will be useful for your acrylic pouring assignment. This bag aims to protect the pouring area from stains that can be messy to clean. Simply lay the cellophane bags on your work area and place your other supplies on them. 
Other Tools 
Other tools you need for your acrylic painting are disposable gloves to protect your hands from stains, popsicle sticks for mixing paint, and a toothpick or other sharp objects to pop bubbles that form in the paint. 
Once you have all these supplies listed handy, you can start experimenting with acrylic pouring art in your home.