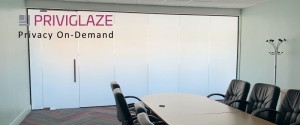 Electrochromic glass, also known as smart glass or dynamic glass, is an electronically tintable glass with various practical use in the building industry.  Architects and designers leverage this product's unique qualities to build innovative windows, facades, glass partitions, skylight designs, and other creative applications.
The Applications of Electrochromic Glass
Electrochromic glass has extensive applications beyond residential buildings. It's exceptionally useful in healthcare facilities, commercial offices, classroom settings, cultural centers, museums, and lots more. The most outstanding feature of electrochromic glass is its ability to maintain access to daylight and outdoor views on-demand. That is why it is used extensively by architects for constructing atriums or skylights.  Research has shown that access to outdoor views improves emotional wellness, patient recovery, and learning. In the corporate setting, it encourages punctuality and enhances productivity.
How Does Electrochromic Glass Work?
During production, electrochromic glass is coated with several layers.  The layers are the outer transparent conductor (TC) layers, the electrochromic layer (EC) at the center, covered on both sides by the ion conductor (IC), and the counter electrode (CE) layers. When a positive voltage is applied to the transparent conductor, an electrochemical reaction between the layers causes the electrochromic layer's appearance to change.
The amount of voltage that passes through the electrochromic glass controls the level of glass tint.  For instance, low electricity voltage darkens the coat when lithium ions and electrons move from one electrochromic layer to another. When the voltage is withdrawn, the polarity changes, causing the ions to revert and electrons to their original layer. Consequently, the glass lightens and reverts to its original state.
Controls and Integrations
Manufacturers of electrochromic glass offer various control options, allowing users to fine-tune its appearance. The control options can be used to manage lighting, glare, rendering, and energy consumption. The control and integration methods are vast; it can even be integrated seamlessly into building automation systems.
The control device can be installed as a traditional wall mount switch. Some control systems are completely digitalized, presenting the user with an app-based control panel, allowing them to change settings, save presets, and load them anytime from the app control interface.
The electrochromic glass can also be integrated with voice control devices such as Amazon Echo. This method affords the occupant the flexibility of controlling the dynamic tinting effect with a voice command.
A Final Note
Electrochromic glass has empowered architects and designers to make creative and functional designs for their clients. It has proved valuable in several industries and offers practical solutions to homes. It enhances the occupants' comfort, improves natural lighting in the indoor environment, allows outdoor views, and reduces energy costs. Electrochromic glass offers multiple control options and can be integrated into building management systems.