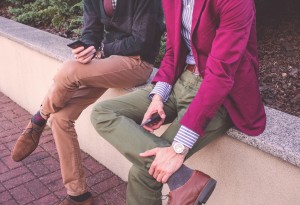 A suit is a pair of jacket and trousers made with the same fabric to be worn together. Suits are official wear that elude an air of class and sophistication. Every man should have a suit that looks classy and fits him perfectly. When worn properly, suits make you stand out in a crowd.
Celebrities such as Ryan Reynolds, Ryan Gosling and David Beckham are well known for how good they look in suits. You do not have to be a famous superstar to look as dapper though. You simply have to know the right rules to wear a suit. If your do not wear your suit the right way, you might be ignored and not taken seriously.
Here, you will be getting 10 rules to wear a perfect suit:
Choose the right fit: Choosing a suit that fits rightly cannot be overemphasized. Your suit has to cling comfortably to your frame to make you look classy and sophisticated. Putting on an oversized suit will make you look scruffy.
Expose your cuffs: This gives you an opportunity to showcase your cufflinks and cufflinks are very attractive suit accessories. Most times suits consist of plain black colors against contrasting bright colors, gold cufflinks add a bit more character to your outfit.
Leave last button unfastened: It is important to leave the last button of your jacket unfastened. Fastening the last button of your shirt will make your attire look stuffy. This makes your outfit look imperfect.
Choose right fabric: When you purchase a suit or have one tailored, be sure you put the purpose of the suit into consideration when choosing your fabric. For a business suits, wool is a more advisable fabric. Poly-viscose is also a recommendable fabric for your suits as it is durable and has a stretchy feature.
Go for dark suits: You can never go wrong with a black suit. Neither can you go wrong with a dark brown suit, dark blue suit or a grey suit. Dark colored suits make you look taller and hides a few extra pounds.
Never mix a patterned suit with a patterned shirt: This will make you look ridiculous. A patterned suit should be worn with a plain shirt and a patterned shirt should be worn with a plain suit.
Wear the right shoes: Shoes are very important to look perfect in your suit. They complement your suit. Black and brown formal shoes or loafers complement suits just right.
Stand up collars: Stand up collar shirts are the best choice when wearing a suit. A round neck shirt or a turtleneck top will have you looking more casual than formal. Stand up collars look more formal and gives you the option of wearing a tie to optimize your look.
Pocket Squares: Pocket squares add more color and character to your suit. You should always ensure your pocket square matches with the color of your inner shirt.
Wear a tie: Putting on a tie is the icing on the cake with a suit. Without a tie, you could come off as looking causal or even scruffy. A perfectly knotted tie perfects your outfit.
The 10 rules listed above are essential to wear a perfect suit. Put them to use for your next formal event and you will be the classiest man in the room.